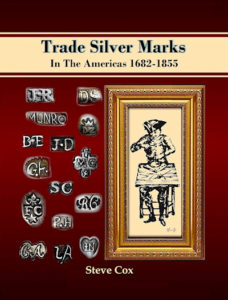 This book covers the silversmith marks found on Indian trade silver between the years of 1682 and 1855. To date, this book is the world's largest compendium of maker marks found on Indian trade silver. Many years of research have gone into this publication, and no other comprehensive work has been produced that is dedicated exclusively to this area of research and collecting. Until now, it has been a very time-consuming task to identify a mark found on a piece of trade silver. There are hundreds of books containing over 22,000 silver marks that one has to sift through in an attempt to identify a specific mark. It is now possible to quickly identify marks that might previously have taken days to identify. This book is also a good source of trade silver marks yet to be found but known to have existed, as well as marks that are found on trade silver but, as of yet, have not been identified.
It should be noted that marks found on American Indian trade silver are not limited to American makers, and this book includes makers and their marks from the American colonies, New France, Canada, France, and the British Isles. Many of the silversmiths found in this book were also involved in the manufacture and maintenance of church silver, and made silver plates and other types of silver articles. To make this book more helpful, it not only includes the silversmiths themselves, but also their apprentices, partners, family members that were silversmiths, traders, and anyone else found to be associated with the marks on trade silver. Some of the marks found in this book have not yet been recorded on trade silver, but, by association, cannot be ruled out.
Researching and collecting Indian trade silver is a very complex field. Owing to the market being flooded with reproductions and counterfeits, collecting trade silver without access to accurate research material is very risky. Among well-qualified researchers, it is also known that this endeavor is not an exact one. With trade silver, it is common to find differing opinions on certain marks. To illustrate this dilemma, a mark as common on trade silver as "RC" for Robert Cruickshank less than 200 years ago was thought to stand for Cardinal Richelieu. Hundreds of photographs and scale illustrations have been used in this book to help make it easier to eliminate many of the counterfeit marks found in the market today.
Many marks covered in this book were found in private collections, and without access to them, publishing this book would not have been possible. The feedback from Indian trade silver collectors, historians, and researchers have been very positive, and there is no doubt that this book will soon become a valuable tool for the many researchers and collectors that have not previously had a reference book dedicated to Indian trade silver marks found in the Americas. This is a work in progress, and marks are continuously being recorded for addition in the future.
  Hardcover (First Edition) / 138 Pages / 600+ Mark Images / 300+ Makers / $149.95 (Free S&H for US and Canada; enquire for other locations)

  Paperback (First Edition) / 138 Pages / 600+ Mark Images / 300+ Makers / $79.95 (Free S&H for US and Canada; enquire for other locations)
Click HERE for International Shipping Cost Estimator.